MESOPOTAMIA, OHIO, CIVIL WAR REENACTMENT
THE BATTLE OF SAILOR'S CREEK
OCTOBER 3 & 4, 2020

This is a reenactment of the Battle of Sailor's Creek fought in 1865 near Farmvile, Virginia, as part of the Appomattox Campaign near the end of the American Civil War. It has been 15 years since a reenactment was held in Mesopotamia, Ohio. The 2020 event will consist of all 3 stages of the Battle.

A social event is planned with an Amish wedding dinner and Civil War Dance to be held at the Mespo Event Center, Kinsman Road, a parade and a ceremony at the Civil War Monument in the center of town, Presenters, demonstration of a food supply wagon, a Civil War Wedding.

Mesopotamia is on the National Registry of Historical Places, and we will be using the Chapel, United Methodist Church, Mespo Memorial & Historical Museum, and Town Hall. Parking will be available for reenactors and spectators within walking distance of the Commons where camps will be. The townspeople fully support the reenactment with donations of land, slab wood, hay, straw, and a possible ox roast by the Fire Department, pancake breakfast by the UMC, Skip Wilson's Sunday service.

Details forthcoming in February 2020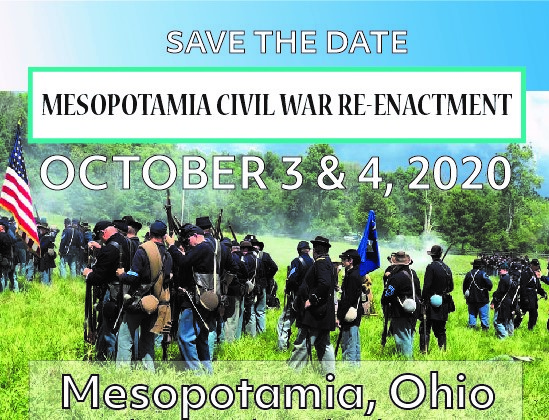 For more information contact:
                                Darcy Miller      330-550-0285             OR             Ted Dudra     330-310-2784     
                                                        Address: 8505 Route 534
                                                         PO Box. 177                            
                                                         Mesopotamia, Ohio 44439
                           FIND US ON FACEBOOK: PAGE & GROUP:  Mesopotamia Civil War Reenactment                                                                   More information forthcoming in February 2020 with Battle, Registration, Sutlers, Amish Dinner &                                                         Social Dance to be held at the Mespo Event Center,  Civil War Wedding, Ox Roast, Parade,                                                                                                     Civil War Monument Ceremony, etc.