John Rys
Ballroom Etiquette - Past & Present
A discussion of proper behavior in the Victorian Era Ballroom and how they may be adapted to and applied in the world of Civil War Reenacting.  
John Rys has been a student of military history for as long as he could read; and although World War II was his first love, he now reads anything of interest in any era.  He has been reenacting for the last 14 years and is a membger of the 5th Texas Company A.  For the last 4 years he has held the post of the Adjutant of the Jeff Davis Rifles.  He has appeared as an extra in the movie "Light of Freedom".  John also works with Northcoast Narrative, a group dedicated to bringing to life the unsung the local history of local Ohio working with local historical societies through 1st person interpretation of the occupants of historic homes of the Civil War Era.  One of his favorite persons he had portrayed is Everett Farnam, a wealthy and ecentric landowner from Richfield, Ohio.
John lives in Streetsboro and has been married to his wife Lori for 33 years.  His other interests include restoring classic cars and photograph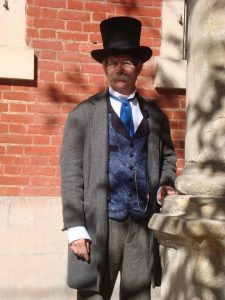 Valerie Hamil
Major Pauline Cushman Spy of the Cumberland
Major Pauline Cushman, Spy of the Cumberland". How intriguing this title was to me! As a Civil War reenactor for over fifteen years, it has always been a challenge to find substantial documentation of women and their roles during the Civil War. Major Cushman is one of the few to have had a few books written on her death-defying activities to uncover Confederate information to report to General William Starke Rosecrans (born in Sunbury, OH).
Ms. Cushman, although born in New Orleans, grew up in the wilderness of Grand Rapids, Michigan, with the area Native Americans. As a young girl, she learned to hunt, ride, track, and shoot better than most men. Her grandfather (who served under Napoleon) felt it a pity that she was not a lad, for "what a fine soldier she would have made".
After the death of her husband from dysentery contracted while at the battle of Shiloh in 1862, the 30 year old professional actress (and mother of two young children) donned men's clothing and went deep into enemy territory, by horse and on foot. She was shot at, stabbed, captured, declared a spy and sentenced to death by hanging.
Valerie Hamill, of Galena, Ohio, presents a first-person narrative of Cushman's brave and hair-raising heroics during the War Between the States as well as Cushman's fascinating yet heart-wrenching life story.
Ms. Hamill is a member of The 1st Ohio/Battery A Unit (Ohio Statehouse), the 5th Kentucky Unit, a past member of the Rosecrans Command Headquarters Civil War reenacting Unit, and is also known as the "Civil War Herb Lady of Ohio". She has served as chair of the Ladies Aid Society and as a dedicated volunteer to the fundraising efforts for the Rosecrans statue that now has a place of honor on the Sunbury Square. Valerie and her husband Bruce live on the family homestead, raise chickens, enjoy gardening, traveling, historical research, participating in Civil War events, and especially enjoy spending time with family.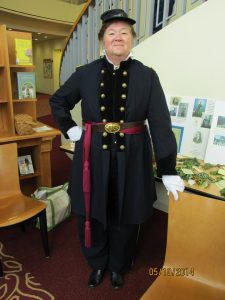 Allison Smith
Harriet Tubman
Have you ever been to a "Tellabration'?  It is a program of storytelling performance in which the person Allision Smith, Storyteller and Teacher will becomes Harriet herself.  Harriet was an American abolitionist and political activist who was born into slavery.  Tubman escaped and subsequently made some 13 missions to rescue approximately seventy enslaved peoople, family and friends using a network of antislavery activist and safe houses known as the Underground Railroad.  
Allison Smith has attended numerious storytelling seminars at Kent State University, Ohio, and is a member of the Cleveland Association of Black Storytellers.  She holds a Masters in Education with an emphasis on African-American history.  Her favorite spokesperson is Dr. Carter G. Woodson, the first and only African-American born of slave parents to receive a Ph.D., quoting:  "What we need is not a history of selected races or nations, but the history of the world void of national bias, race hate and religious prejudice".  Mr. Woodson established Black History Month.  
In her private life Allison is the Director of Destiny Outreach Ministry of Hope (a youth group to provide hope through enrichment programs and prepare students for after graduation).  She has authored WHOOOOO WILL ADOPT THESE EGGS and written several articles on Self-Esteem and Storytelling.    She is an Intervention Specialist Teacher and was an adjunt for Ashland University focusing on Healing Stories and Storytelling.  As a Consultant, Allison does workshops for school interventions, Bridges Out of Poverty, Community Quilting and Life Skills seminars/workshops while working with Communities.
Allison has been inducted into the AAAchievers Hall of Fame.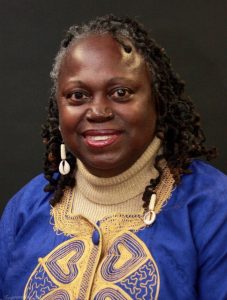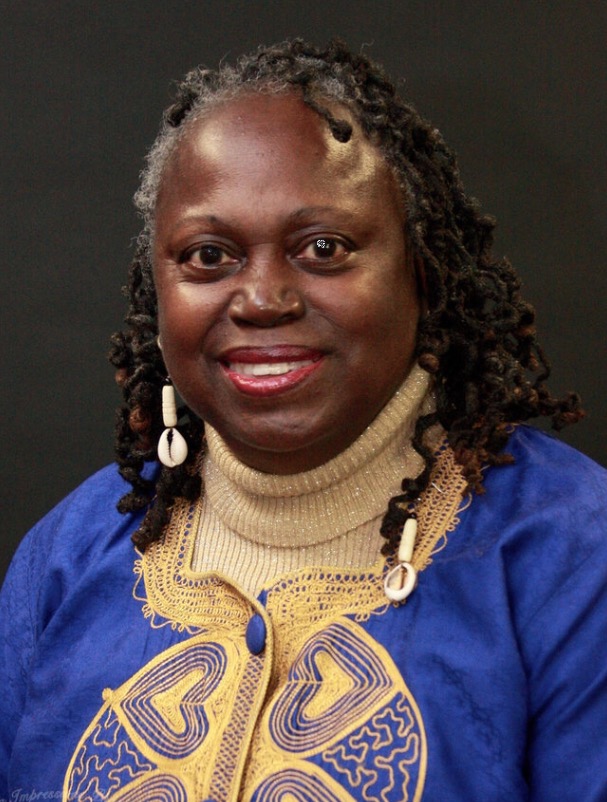 John Spaziani
General Samuel Cooper
John Spaziani has been intrigued with researching and studying the American Civil War since his visit to the Gettysburg National Battlefield during the Centennial in 1963.  He does not recall reenacting though.  Since then he has amased a library of five hundred (500) biography, history and military textbooks mostly on the Civil War art, coins, original documents, firearms, memorabilia, etc.
During his professional career traveling to over forty (40) different countries in Asia, Europe and South America, he was able to visit many museums and sites.  He holds three Master Degrees:  Master of Science, Mechanical Engineering, State University of New York; Master of Business Administration, Lynchburg College, and Master of arts, Counseling and Human Devleopment, Walsh University.
John joined the Civil War Heritage Foundation in 2013 starting research on Civil War Spies, male and female.  He was subsequently nominate to portray General Samuel Cooper, Adjutant and Inspector General, the Highest-ranking CSA General.  He did elaborate an extensive research developing and delivering a First-Person power point presentation recounting his 1869 meeting with General Lee who came to visit Cooper's home near Washington City.   The two old war horses reminisced about their careers and the  Civil War. They were neighbors in the Cameroon (Alexandria) Virginia  neighborhood, and their wives Mary and Sarah were close friends.  He will also show rare and original Civil War Documents issued by General Cooper including the General Order promoting General Lee and Commander of all Confederate Forces in February 1865.
Upon retirement in 2014, John has been attending 40-42 major CW Events annually from as far West as Vicksburg, Mississippi, to Montgomery, Alabama, (Appomattox, Cedar Creek, Danville, Farmville, Lynchburg, Petersburg and Richmond, Virginia, Antietam and Fredericksburg, Maryland), Hale Farm, the McKinley Ball (2020 scheduled for Sheraton Suites, Cuyahoga Falls, OH), Zoar Village, Ohio; Jackson, Michigan, Gettysburg, Curtin Village, Soldiers and Sailors, Pennsylvania.  He manages an extensive "Book of Faces" page with 1000s of photos of these events and visits.
John has also developed a First-Person Drama as Lt. George Erasmus Dixon the last Captain of the Confederate submarine The Hunley.  This drama has been presented to several CW Round Tables (CWRTs) in Michigan, Ohio, Pennsylvania and the American Civil War Museum in Appomattox, Virginia.  He is also scheduled to speak at both Hampton Roads (CWRTs).  John is a friend of the Hunley and has attended the Members Only Research weekend the last three years.
Please welcome John as General Samuel Cooper, AG/IG.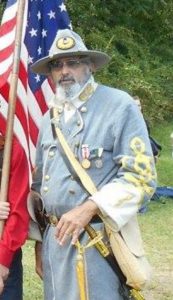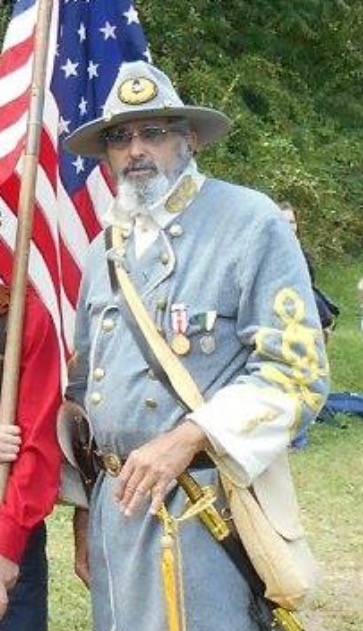 Michael Rhodes
Photography
Michael Rhodes has been a photographer for 33 years primarily wedding and portrait.  He has collected 19th century images for the past 15 year shooting wet plate collodian process for 5 years.  During the past 4 years he has been researching and working with period photographic techniques.  He is the largest case manufacturer in the world.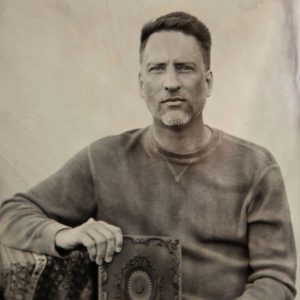 Robert & Barbera Brugler
Conversations with the Lincolns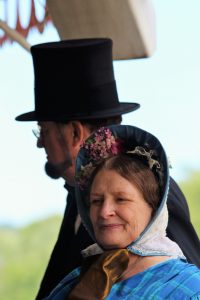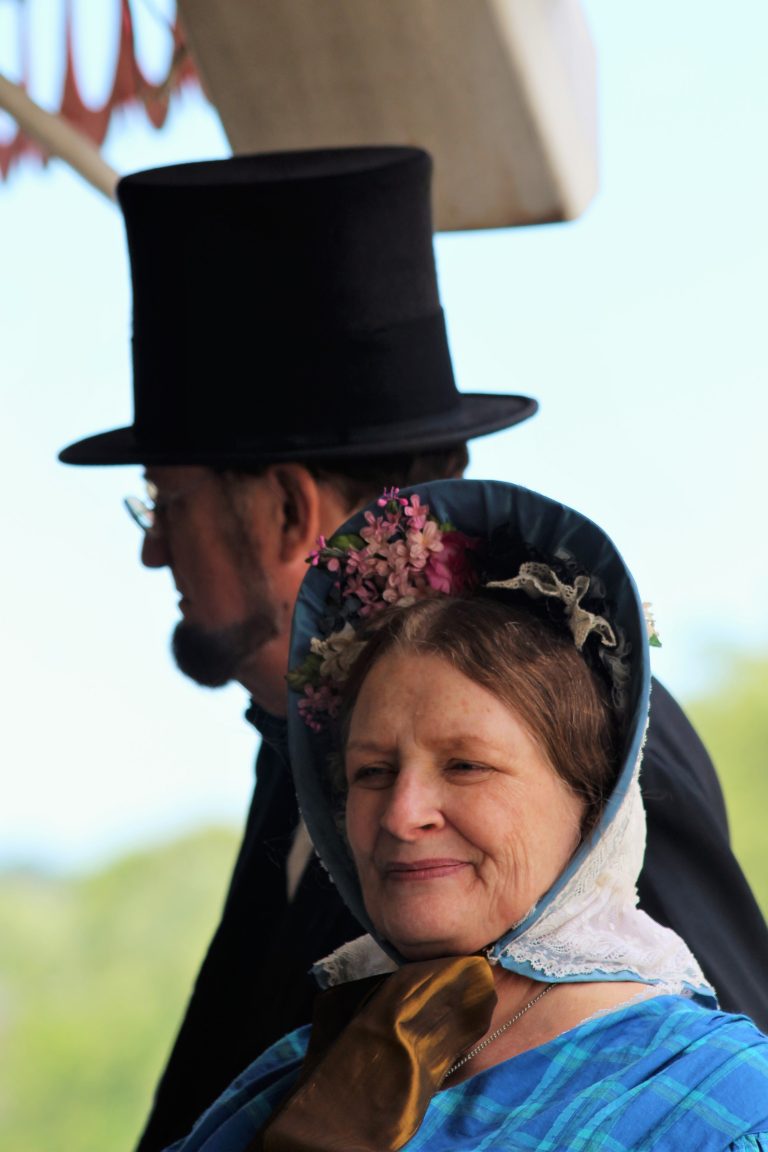 Barbara Brugler from Worthington, Ohio, portrays Mary.  As a psychotherapist in Worthington for over 35 years, she has unique insight into Mary including both her weaknesses and strengths.
Along with her husband Robert Brugler as Abraham Lincoln, Barbara has been portraying Mary for over 10 years around Ohio at such places as the American Civil War Museum, the Ohio History Center, the Ohio State House and the Garfield Home.  Portrayals at Gettysburg, Manassas, Va, and WV Wesleyan University are a few of the out-of-state portrayals.  For more information and photos, go to www.barbarabrugler.com or her Facebook page Visit with Mary Lincoln.
This year she and Mr. Lincoln will present together.  Find out the differences in childhoods, their education, how they met and their life together in Springfield and Washington City.
Robert Brugler as Abraham Lincoln Press Release
Robert is a nationally recognized Lincoln presenter and historian with over 11 years of experience and has given hundreds of appealing and thought-provoking presentations.  With his uncanny resemblance to Abe from his 6'4″ height, authentically styled beard, stove pipe hat in 1860s' era clothing and scholarly knowledge, audiences believe they are visiting with Old Abe himself.
Hope Taft, Former First Lady of Ohio:  "Bob is wonderful as an interpreter in teaching and informing his audience as well as engaging and entertaining adults and children.  His knowledge of Lincoln is encyclopedic".
Dr. Rick Weil, The White House – Member of Reagan's Staff:  "We so enjoyed the humor and knowledge that you so easily share.  It is an absolute pleasure and honor to listen and learn from you.  When I watch and listen to you, I see all those things Mr. Reagan spoke about".
Gale Martin, the Marion County Historical Society:  "Robert is totally engaging and makes feel you are having a conversation with Old Honest Abe himself".
Some of the more unusual events Robert has presented President Lincoln are a wedding at the Ohio Statehoue, a birthday gift for a Lincoln enthusiast, a baby shoe for a child that will be name Lincoln and as an early Christmas gift (dicussing Lincon's life on Christmas Eve day).
Visit the following web site for past events and venues and other notable information:  www.VisitWithAbe.com or contact Robert:  VisitWithAbe@gmail.com.  Cell 614-312-7461
John Huffman, Jr., Founder Director, 73rd OVI Regiment Band, Camp Commander, Enderlin Camp SUVCW
In Fraternity, Charity and Loyalty
 jsjbh@roadrunner.com 740-708-1403  http://73rdoviregimentband.weebly.
John M. Huffman, Jr., is the founder and director of the 73rd Ohio Volunteer Infantry Regiment Band.  Organized in June, 2012, the band seeks to portray a 19th Century military brass band that waas formed in Chillicothe, Ohio, in the 1860s.   The band performs on 150 year old musical instruments wearing correct Federal uniforms. 
Mr.Huffman is Camp Commander of Enderlin Camp 73, Sons of Union Veterans.  He is also in the Sons of Veterans Reserve and Military Order of the Loyal Legion of the United States.
Currently, Mr. Huffman is Director of the Great Seal of Ohio band, a community band of south central Ohio.  He is a retired Director of Band of Waverly Schools after 30 years teaching.  He is a retired First Sargeant of the 122nd Army Band, Ohio National Guard, with 33 years of military service.
Mr. Huffman is a graduate of Ohio State University with a Bachelor's Degree in Music education.  He was a tuba player in the Ohio State marching band and dotted the eye in script Ohio.  He has performed with the Columbus Brass Band and Chapel Brand which is associated with the Salvation Army.  He also has played bass trumbone with the Only Yesterday Orchestra.  He continued to play sousaphone as a member of the Ohio State Alumni Band. He resides in Waverly, Ohio, with his wife Susan. 
David Walker and Dr. Holly Ray
Life with the Davis Family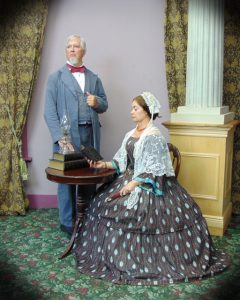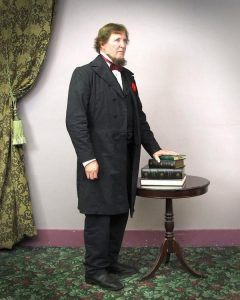 Dr. Holly Ray has been an enthusiastic student of Civil War history for over 30 years.  Her earlier interests concentrated on military aspects of the war; but in the past several years, she also has been drawn to civilian and medical studies.  Her favorite place on Earth is Gettysburg and is a frequent visitor feeling more at home there than back in Ohio.  She formerly enjoyed the privilege of being a docent at the Daniel Lady Farm, which was used as a Confederate field hospital during the battle of Gettysburg.
Holly is also an avid equestrian and combines her love of horses and history with the art and sport of sidesaddle riding. She is a certified sidesaddle instructor and is available to give demos, lessons and presentations.  She is proud of her extensive collection of 19th Century sidesaddle stirrups and whips.  Holly's role in the hobby took a new direction when she joined her fiance David Walker in the study of Jefferson and Varina Davis. They feel that being a real-life couple helps to bring even more authenticity to their portrayals of the President and First Lady.  They kept busy in 2019 presenting together in Ohio, Kentucky and Pennsylvania. 
In the real world Holly is owner and operator of Champion Animal Hospital near Warren, Ohio.  She has been practicing veterinary medicine for the past 22 years, and her favorite part of the job is being in the operating room. 
David Walker has been impersonating Jefferson Davis for over ten years.  He has appeared at Civil War Reenactments,  Roundtables, Balls, Fashion Shows, Schools and Civil functions.  David spent thirty years in the Elementary Grades mainly teaching at the 5th Grade level.
David presents Jefferson Davis from birth in Kentucky until his release from prison at Ft. Monroe, Virginia in 1867.  David always believed the War had two sides and both sides need to be discused within the presentation.  Davis was a House member, Secretary of War, Senator and President of the Confederacy.
David has performed in over ten States recently adding Vicksburg, Mississippi,  in 2018.
In 2020 David will be taking Jefferson Davis to the West Coast when he presents at an Oregon Reenactment.  Over the past year, David has added a new dimension to his presentations by teaming up with Dr. Holly Ray who not only portrays Davis' Wife Varina but in real life is David's soon-to-be wife!
Edward E. Keyse as Commodore John C. Carter
The Second Battle of Lake Erie
Ed Keyse is honored to portray Commodore John C. Carter a career US Navel Officer. He was the Captain of the USS Michigan, home port Erie, PA, for most of the Civil War. This was the First All Iron Ship of the US Navy and served the longest continuest commission. 
Ed has presented to: The Erie Marine Museum (the remains of the Michigan are there), President Garfield's Home (Ed lives a few blocks from there), the Lake County Historical Society, The Sandusky Historical Society, and other groups including Civil War Round Tables in Ohio. 
Ed has sailed Lake Erie from one end to the other and sailed into almost every port on both the North and South shores. He has an intimate relationship with the water and conditions Commodore Carter sailed in.s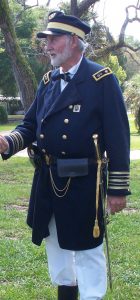 Maryanne Chevraux
The Railroad Industry
Maryanne has been interested in history all her life particularly Revolutionary War and Civil War time periods.  Her first taste of history was during a visit at Colonial Williamsburg, Va., and several Plantations.  She realized that sometime in her life she would hope to make history live.
Her family consists of two daughters with Masters Degrees and she is an OSU Extension Master Gardener Volunteer and is currently employed as a LPN in a Family Practice Office.
Maryanne attended Zoar Ohio Reenactment two years ago and became acquainted with and joined the 29th OVI.  During her visit to Hale Farm she met Len Brown who is producing a PBS Documentary on the Ashtabula Train Disaster of 1876 in which she has the coveted role of Mrs. Julia Ann Gleason Stone, wife of Amasa Stone Railroad tycoon, Industrialist and Philanthropist who resided on Millionnaire's Row in Cleveland, Ohio.  
Maryanne has researched the Stone family and their railroad history during the Civil War e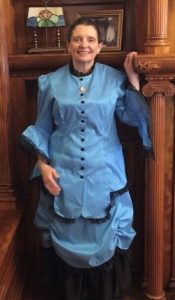 Janet Fortino
$10 to a Better Appearance
Melissa Strobel
Spiritualism
Melisa is a Curator and Archivist most recently with Westoverton Museum near Pittsburgh.  She is the founder and content maker for In the Swan's Shadow, a visual reference and research log focusing on women and children of the mid-19th Century now celebrating its 12th year.  She is the Senior Research Editor for the Homefront Herald, the magazine by and for Civilian Reenactors and Living Historians.  
Melissa has worked in a collaborative role with several museums and historical societies including planning and running living history events in several different time periods.  She attended Lockhaven University and the Pennsylvania University studying American History and Sociology before branching into Archival Science Curatutorial Studies.  She is the mother of 4 children and 6 cats unless her son charmed one in the door while she was not looking.  
Melissa's hobbies include herbalism, gardening, rug weaving, and occasionally chasing ghosts and Bigfoots.
"As Someone Gently Rapping, Rapping on my Parlor Floor".  A short overview of Spiritualism in the mid-19th Century started by two girls and a very noisy ghost. Diane Virostko
Accappella Singer
I first became interested in the Civgil War, specifically the fashions, when my son was tapped to be part of the entertainment when the Ohio Chataugua came to Lakewood for the 150th.  I made him a frock coat out of the wrong fabric, but using the buttons from my Father's uniform as it turned out they were made by the ame company that turned out military buttons during the Civil War…and down the rabbit hole I went!
I made my first day dress for the Chataugua; and while attending the presentations I thought, "I could do that".  So I took the family information about my Great Grandmother, did tons of research, and developed a Living History presentation based on herlife on the farm, as well as, her visit to her sister-in-law here in the 'big city".  I have always used acappella music in my presentations.  Music was so very important in those times.
I sing with the Westshore Chorale here in Lakewood, and I have been a Cantor at my local church for many years.  I have also sung with the Opera Circle.  When haven't I been singing?
How was the civil War Songbird born?!?
My good friend who plays Belle Montgomery knew that I was going to be at Hale Farm again this year, and she requested that I pop by and sing for her.  I did.  She proceeded to walk me over the entire Southern Camp enlisting troops to give me a listen/
I had been thinking of a way that I could contributre to reeenacting and took her encouragement to make a display and a song list.  I sang at Hale and Zoar and received very good feedback.  I look forward to singing at other encampments.
I chose "Songbird" becaue I am like a Song Sparrow–small, kind of plain, but with a very big voice.  I hope you find my voice just as pretty as that little bird.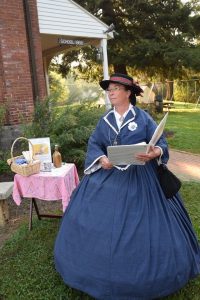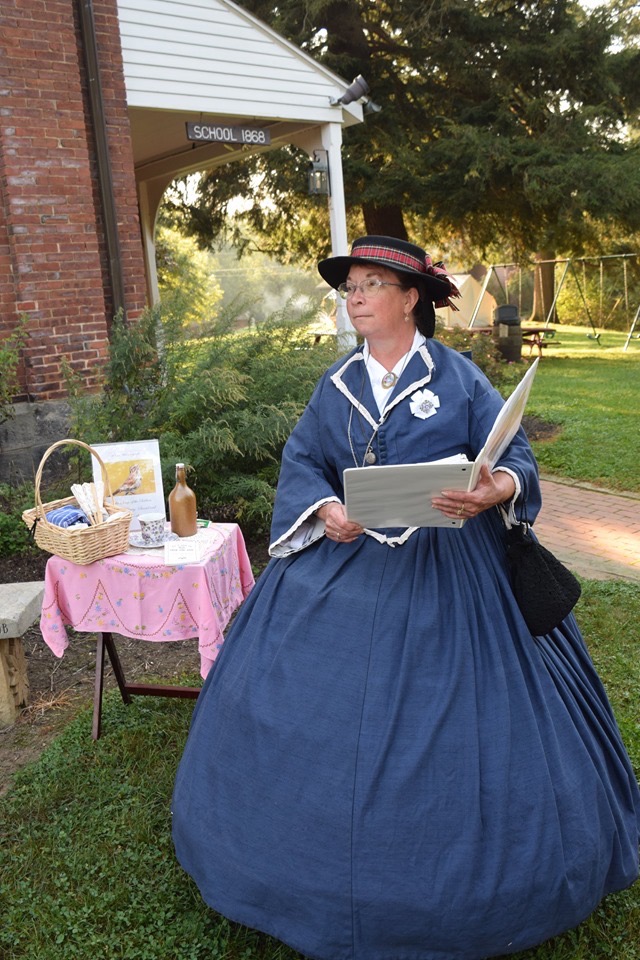 Kristen Mrozek
Recreate a Civil War Style with Beads & Bugles
Kristen Mrozek teaches high school English and Spanish at an alternative high school and has been in the classroom for ten years.  She lives in Holly, Michigan, with her fiance and their beagle who is currently in dog training.
Kristen later graduated from Wayne State University with a Master's Degree in Composition and Rhetoric.  During that time she began to reproduce historic jewelry and travel to different events as The Victorian Needle.  In 2017 she formed the Citizen's Forum of the 1860s a non-profit conference that promotes research and education about the mid-19th Century.
Beads and bugles were popular tools of the mid-19th Century.  They could be used to adorn bonnets, hairpieces and even dresses!  In this hand-on workshop you will learn how to recreate one of these beautiful floral sprays from the original directions, as well as, view original beaded items.
The fee for materials will soon be published Art & Pam Dodds
of Flags interwoven with the Pierpont Family History
Art and Pam Dodd live in Barbour County, West Virginia.  Art retired from the National Oceaneanic and Atmospheric Administration where he managed the production of instrument approach procedure charts for airports in the United States. Pam holds a doctoral degree in Marine Geology and is a Registered Professional geologist specializing in hydrogeology.  She also plays the organ.  Art and Pam have a keen interest in history and have been protraying Governor and Julia Pierpont at reenactments and various events for the past seven years.
Lady Julia Pierpont who lived from 1828 to 1886 received an education from the Female Seminary in Washington, Pa.  She taught throughout her life, was generous in helping provide food and other items to the soldiers during the Civil War, visited the soldiers in the hospitals, and worked with other ladies in Fairmont to sew US Flags for the soldiers.  She is recognized as the Founder of Decoration Day, which later became known as Memorial Day and was the first woman of West Virginia to be inducted into the Grand Army of the Republic.
Art and Pam Dodds portray Governor Francis H. Pierpont (Governor of the restored State of Virginia) and his wife Lady Julia Robertson Pierpont.  They represent a history of the American flags from Colonial times through 1868.   Governor Pierpont's great, great grandfather, Colonel Morgan Morgan, created the first militia in Colonial America.  Governor Pierpont's father was in the War of 1812 during the time our American flag had 15 stars.  Governor Pierpont provided an explanation of how the number of stars and stripes changed on our flags.  
Julia Pierpont provides antecdotes of the Pierpont family as part of the presentation.  The presentation culminates with the American flag in 1863 when West Virginia gained Statehood.  The Pierponts provide their history through Govenor Pierpont's last year as the Governor of Virginia in 1868.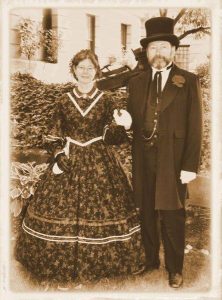 Mary Ann O'Neal
Mary Anna Custis
Remembering Arlington
Mary Ann O'Neal was an educator for 37 years as a teacher, coach, guidance counselor, athletic director and administrator.  She has retired as Principal of Princeton Community Intermedidate School (grades 3 through 5) in Princeton, Indiana, after 9 years in administration.  
Mary Ann and her husband Don have been active in Civil War Reenacting for the past fifteen years and have participated in events in Indiana, Kentucky, Tennessee, Michigan, Illinois, Virgtinia, and Pennslvania.  She has presented Mrs. Lee for the past 12 years and currently serves as a Treasurer of Gibson County.  She lives in Princeton, Indiana, with her husband on their mini-farm of 9 pygmy goats, 10 cats, 20 chickens, and their black lab Bella.
Mary Ann presents a first-person persona as Mary Anna Custis Lee, wife of General Robert E. Lee and their family life at Arlington, Remembering Arlington.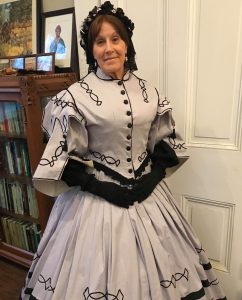 Lynne Bury
Waste Not, Want Not Victorian Women's Art & Crafts incorporating leftovers around the home
Upon marriage to a Civil War Cenntenial Re-enactor, English teacher Lynne Bury found herself plunged into mid 19th Century with no resources but the library and ingenuity.  With no "sutlers" or commercial patterns yet on the scene (not to mention the internet!), she began what would become a lifetime of research by collecting the primary women's magazines of the era, visiting numerous Ohio libraries, and pawing through thousands of original articles of clothing at any museum that would allow it.  
In a few years she found herself winning gown competitions, lecturing and writing articles for various Victorian publicatons.  When her husband retired from 18 years as an artillery officer, Lynne and daughter Elizabeth became proprietors of the successful Ocatgon Ladies' Repository.  In this capacity they have designed a line of 1860's clothing patterns for women and children, developed kits for accessories, published a magazine and 5 needlework pattern books as well as a line of cross-stitch charts and a popular book on styling hair.
Over the years Lynne has worked at the Kent State Fashion Museum, served as consultant to the Ohio Historical Society, Wellington Museum, Wayne Co. Historical Society and Stark Co. Historical Society and is a popular speaker in local schools.  
A descendant of numerous Union Veterans, she has served 3 terms as National President at the Ladies of the Grand Army of the Republic and is the current National Historian and Assistant Scretary and active locally.  Lynne completed the creation of a museum room at the Military Museum at the Ohio Veteran's Home in Sandusky, Ohio.  This museum room features Civil War Veteran memorabilia and focus on the Ladies of the G.A.R. and their role after the Civil War.
 Lynne has also served as the National President of the Dames of the Loyal Legon, the women's counterpart organization to the Military Order of the Loyal Legion, which was formed the night President Lincoln was shot.  Lynne has also served on the coalition committee for "Lincoln in Cleveland 2015" a 3 month long event with symposiums, special displays, various peakers and concerts, all culminating with a recreated funeral processon to honor President Lincoln's lying in state in Cleveland in 1865.  
She and her husband reside in their restored 1883 octagonal house where they give tours, teas and workshops on Victorian crafts, and Lynne also serves as a Board Member for the Nonprofit association.