Michael Rhodes: The Daguerreotype (the great social equalizer) and the Studio Experience
Michael Rhodes has been a wedding a portrait photographer for over thirty years and
a wetplate collodion photographer for ten years. He is one of the very few that operates a traveling tintype studio at events and creates one-of-a-kind images.
He is a collector of 19th century images and his love for the cases they were displayed in caused him to recreate them using modern materials. He has recreated over three hundred original case designs for a new generation of tintype photographers in which to display their work. 
This year I will be giving my talk on The Daguerreotype (The Great Social Equalizer) and the Studio Experience.
Message or call/text 440-666-8588 to reserve your spot!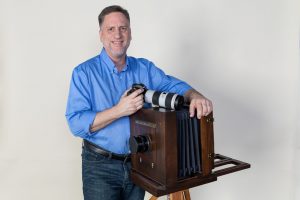 Duncan Virostko The Ohio Artillery Story
Duncan Virostko shares period accounts and documents from Ohio's Field Artillery, to give an insight into the experience of a artilleryman in the Civil War. Along the way, he'll cover both national and Ohio specific
topics ranging from experimental weapons to the equipment an artilleryman wears.
Duncan Virostko is a member of the 1st Ohio Light Artillery, Battery A reenactment unit, better known as "The Ohio Statehouse Battery", and a descendent of George Oscar Scott of the 8th Michigan Cavalry. He has long had an interest in Civil War history and technology; particularly artillery. A graduate of John Carroll University, for the past few years he has put his history degree to good work at the Cuyahoga County Soldiers' and Sailors' Monument and elsewhere researching and sharing the history of Cleveland and the Civil War with the public. Currently, he pursing a Graduate Degree in Public History from Cleveland State University.
John King: President Lincoln goes to Washington (worst 4 years of his life)
For the past 25 years, John W. King has been telling the story of the 16 th President during that
great conflict.  John is a full-sized, first person portrayer of Lincoln at 6 feet 4 inches.  He gives a
brief look at Abraham Lincoln's life from the log cabin to the White House. His presentation
can be from 15 minutes to an hour in length, followed by questions and answers. 
 As a retired teacher, John educates his audience in a most entertaining manner.  He has brought
Mr. Lincoln to life for school students, historical groups, civic groups, churches, clubs, a Law
Day dinner, birthday party, Civil War rededications, festivals, and Memorial Day parades. 
Group size has ranged from as few as 10 people, to as many as 350 students
At the Lake County Law Day Dinner, "President Lincoln" spoke for 15 minutes about his
education and legal training, followed by questions and answers.  He was asked if he thought a
former slave could ever be elected President.  His response was, "Probably not, but who would
have thought someone born in a log cabin with less than a year of formal education could be
President; so I guess anything is possible".
 As the dinner guest for an 80-year-old gentleman's birthday party, "Mr. Lincoln" talked about
the Civil War for about 45 minutes when the gentleman commented, "You're my hero".
For information about bringing Abraham Lincoln to life for your group, please contact:
John W. King
ALincoln212@yahoo.com
**Lifetime Member ALP (Association of Lincoln Presenters)**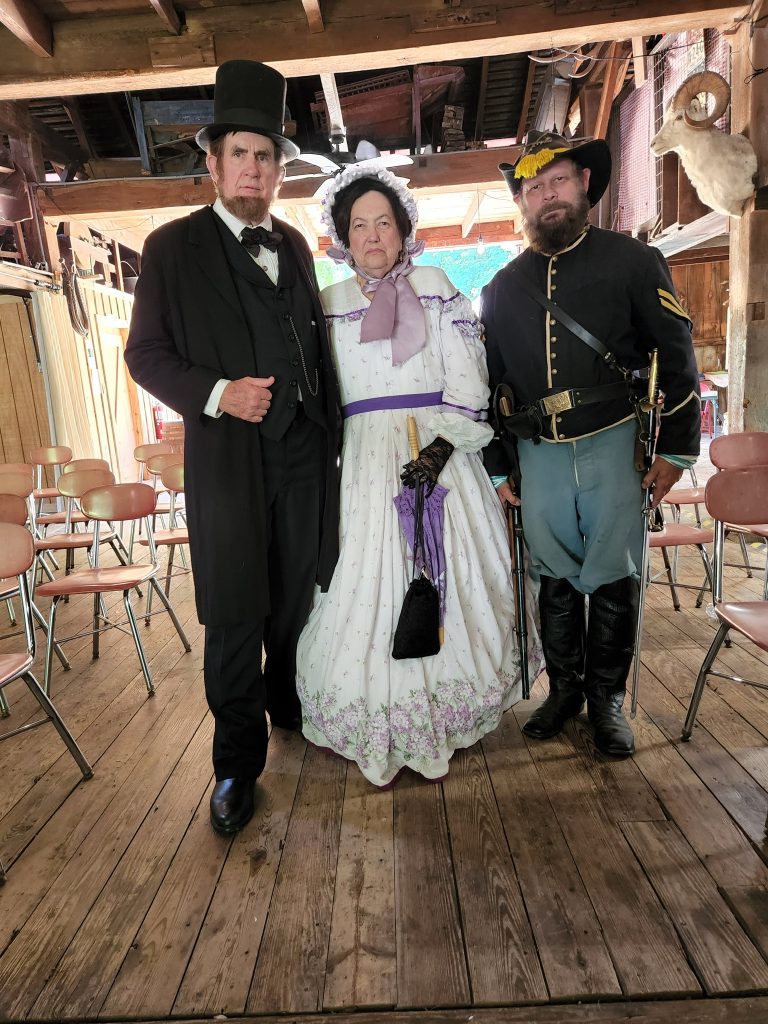 Jackie Greer - So You Want to be an Army Nurse
So you want to be an Army Nurse?
Defining who was a nurse and what he or she did during the American Civil War is a difficult task. In
1890 bills were proposed in congress for back pay and pensions for US Army Nurses. Samuel Ramsey of the Surgeon General's office attempted to clarify and estimate the number of nurses. He distinguished 7 classes of women employed in nursing in the Civil War.
We will investigate these categories of Nurses, and how you came to find yourself employed as a nurse.
Jackie Greer, RN, BSN. Jackie usually introduces herself as a nurse in 3 centuries. Originally a
diploma nurse graduated in 1985 from the Conemaugh Valley Memorial Hospital School of Nursing in
Johnstown Pa. Her love of the history of nursing can be traced to the hospitals' connection to Clara
Barton and the Great Johnstown Flood of 1898. She is currently employed by the Johns Hopkins School of Medicine. Her reenacting career started in 1998 at the 135 th Anniversary Reenactment of the Battle of Gettysburg.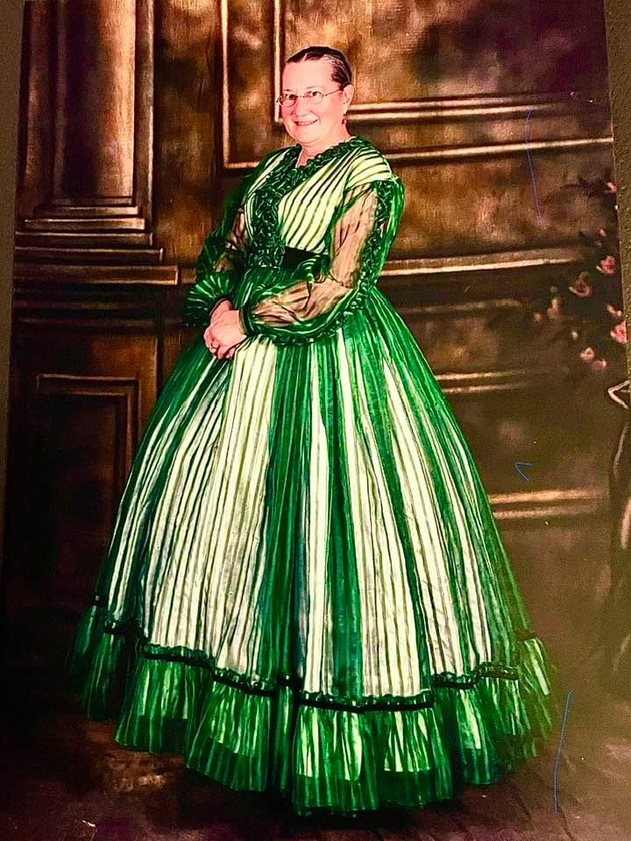 Diane Virostko - Civil War Songbird: Solo interpretations of Civil War Music: Patriotic, Hymns and Spiritual Selections
I am Diane Avellano-Virostko, and I am the "Civil War Songbird". I specialize in singing A'Capella renditions of popular songs, both patriotic and spiritual. 
I grew up in Cincinnati, where I sang in church and all through my Elementary and High School years in a variety of choruses.
I was lucky enough to sing with the University Chorus while I studied at The Ohio State University, earning a B.S in Zoology/Botany.
I hold a minor in Spanish as well.
After college, I got married and began to sing in Lakewood, Ohio at a variety of Catholic Churches. Eventually I auditioned for The WestShore Chorale, and I've spent 27 years with the group. I currently cantor at St. Luke the Evangelist in Lakewood.
I began singing Civil War songs after my son participated in the Ohio Chataqua Civil War celebration in Lakewood, OH. 
I was a featured singer at Zoar both during the school day and then in the Main tent. I've sung for the last 2 years in the church at Burton. In 2022 I sang for a Confederate Wedding while in Burton.  In addition I have wandered Hale and Sydney, entertaining the troops.
I have also presented at the Ohio Regimental Military Ball, during the day of the event. I'll be singing there again in 2023, with some new pieces that I've learned. 
I am a fabric and jewelry artist, creating my own Civil War period correct clothing. As well as civilian/modern clothing. I've crafted numerous pieces of jewelry, both for myself and family. 
I currently work in an Elementary School as the Library Media Assistant. I'm the "Li-Bear-ian" and I really enjoy helping students find a just right read.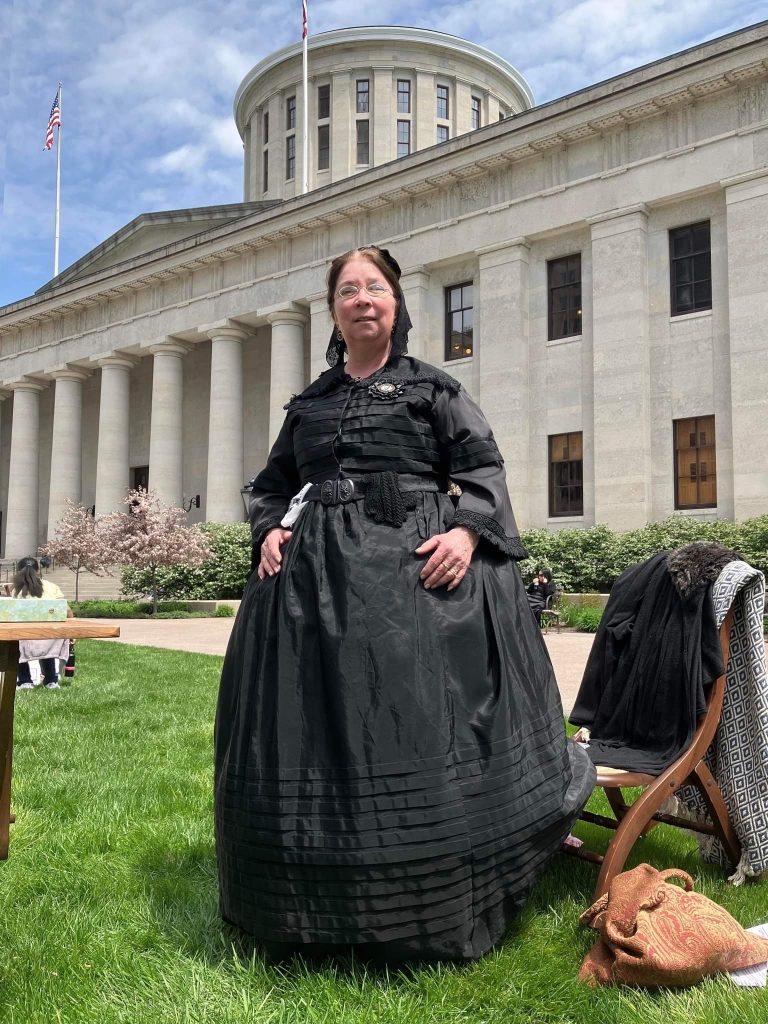 Dr. Russ Gilliom: Wound Treatment of Extremities"
Diagnosis, treatment plan , anesthesia, and post operative care for an upper extremity wound created by a .58  caliber Minie' ball
– Education – B.S. Zoology- Chemistry,  D.D.S.
– Occupation – private practice of dentistry for 36 years, currently Chairman Whitley County , Indiana Board of Health and  grain farmer -wheat, corn ,soybeans
– Married to Lois  2 children and 6 grandchildren
– Memberships – president 30th Indiana Volunteer Infantry, Society of Civil War Surgeons, United States Naval Landing Party (USNLP), – – President- Whitley County , Indiana Historical Society
– Activities- numerous medical and dental presentations( historic), coordinated Civil War 3 day camp for students 11-15 yrs old for several years, Infantry reenactor as well as medical and Navy reenacting, have been in several countries as well as US providing dental services as mission outreach and helped set up 3 dental "clinics" in Jamaica, Haiti and India. really enjoy 1860s ball dancing with Lois.
50% discount on all amputations and boil lanceings during this conference.  All major health insurance accepted , Medicare and Medicaid. Additional 10% discount if paid in gold ,silver or greenbacks.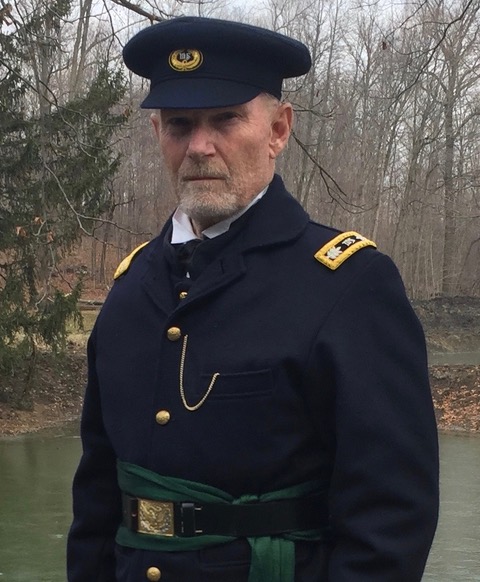 Carol Polkinghorne - Mary Surratt
Mary Surratt was the first woman hanged by the Government for conspiring to kill President Lincoln.  She owned and operated a boarding house in D.C. John Spaziani: Ward Hill Lamon
Portraying  Ward Hill Lamon who was
Lincoln's "particular friend" and personal bodyguard, whom
Lincoln "needed in Washington City." He served as City
Provost and once slept outside Lincoln's bedroom, at the
White House, to insure his protection. He also as the Provost
Marshall in Gettysburg, November 1863.
John, in the first person as Ward, will review Lamon's background and
biography, as well as the events leading up to the Gettysburg Address. A
volunteer will give the Gettysburg Address in sections and Ward will interpret
it, section by section. They will conclude with the long-standing significance of
the Address to this day and a tribute to Lincoln.
Folks we hope to see you there.
John C. Spaziani, 2023 Biography
John Christopher Spaziani grew up in Jersey City, New Jersey; attending St. Peter's Prep and
Stevens University, obtaining a BS, Mechanical Engineering. Subsequently he earned:
– Master Science, State University of New York (Mechanical Engineering),
– Master of Business Administration (MBA) at Lynchburg College (VA), and
– A Master of Counseling and Human Development (MA), at Walsh University
John worked on Project Apollo Missions IX through XVII and power plants/infrastructure
worldwide, visiting over forty (40) countries over thirty (30) years. He holds numerous
Certifications, including Licensed Professional Engineer (PE) and Project Management
Professional (PMP), as a PMI Registered Education Provider (R.E.P.)
He retired in 2014 to concentrate on family and Living History, doing thirty-two (32) events
annually, pre-COVID. His love of history and the American Civil War stem from a 1963 visit to
Gettysburg, with his parents. He has an extensive library, including original works and artifacts.
Mr. Spaziani was asked by the Civil War Heritage Foundation (CWHF, Inc. – now an Alumni
Group), to portray General Samuel Cooper, AG/AI, CSA, which he has done dozens of times, in
a First-Person Portrayal. He has spoken at the American Civil War Museum (Appomattox, VA)
and numerous Civil War Roundtables and other Gettysburg venues. In 2022, he has attended and
participated in several major events, including:
– The 200th Birthday Celebration of US Grant (Georgetown, OH) as part of the General's
(and President's) Honor Guard
– The 157th Anniversary of the Surrender of the Army of N VA (Appomattox Court House,
VA)
– The 160th Anniversary of the Battle of Fredericksburg (VA)
John and Charlene have been married fifty-three (53) years, now residents of South Carolina, and
have three sons. He drove recently from their home, in Fort Mill,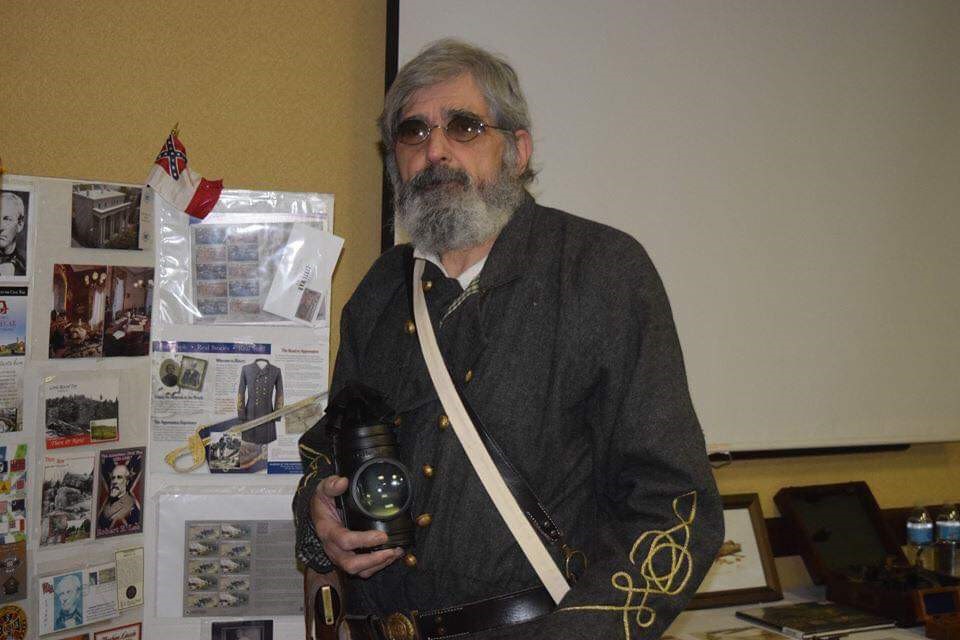 John Rys "Behave Yourself!" Etiquette of the Ballroom
 I have been a reenactor for 16 years with the 5th Texas Co A.  and  also serve as the adjutant for the Jeff Davis Rifles Battalion.    I am also is a member of the civilian living history group North Coast Narrative. I most enjoy events that let me interact with the public on an up-close level.  
My hobbies include reading history, particularly military ,  collecting US medals, and restoring and driving my classic cars.   
Behave Yourself – Etiquette of the Ballroom – A favorite!     
An overview of proper behavior in the ballrooms of the Civil War era, with an emphasis on those items useful to the reeenactor. One's behavior at social functions was important to Victorian ladies and gentlemen and no function typified this as much as a ball.  Some rules of etiquette  we may consider ridiculous today, but there are many we can use, not only for our enjoyment, but also to upgrade our impressions.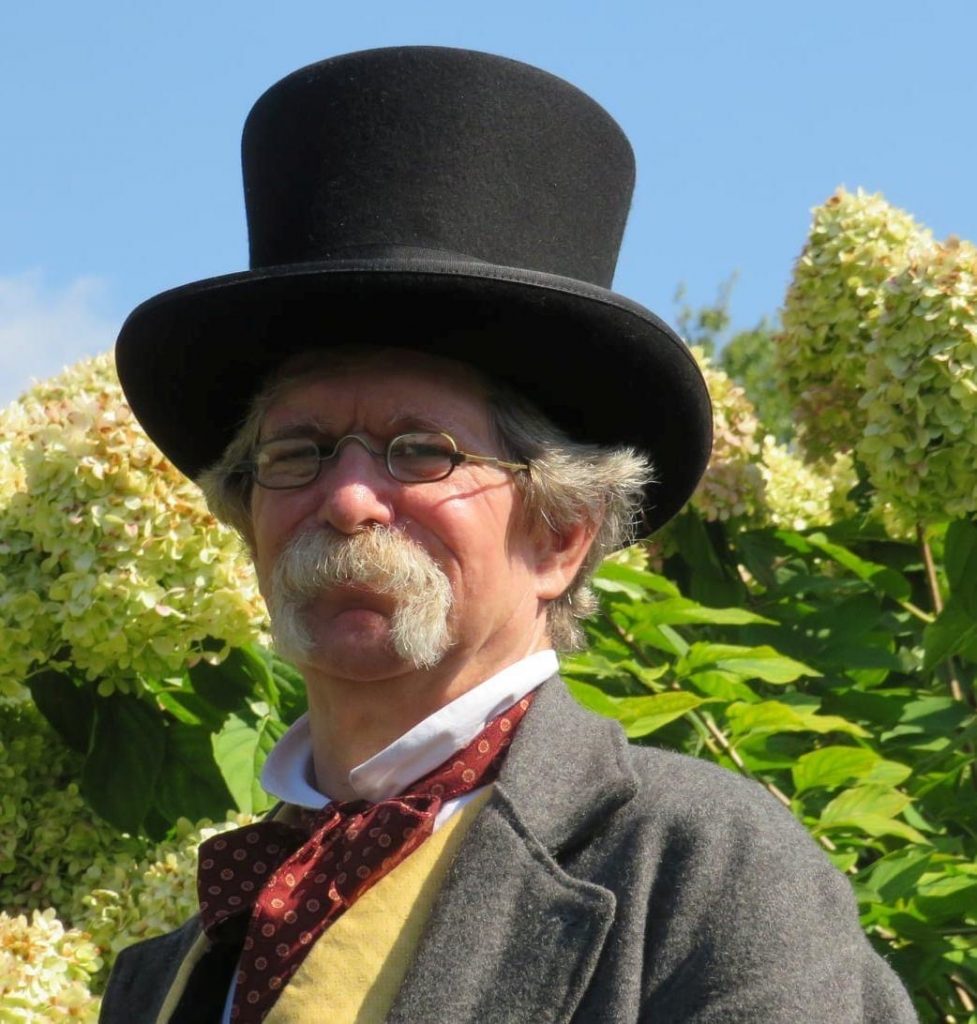 Bob Dispenza - As Frank Lyons: Life on the Raging Canal
Bob Dispenza is the Park and Education Manager at Metea County Park, Fort Wayne, IN.  He has worked at various National, State and local parks since 1978 in natural and cultural history interpretation.
Living history programs include Roosevelt ranch hand in North Dakota, early settler in Ohio and Indiana, canal boat captain, plume hunter in Florida, Civil War Navy officer and enlisted sailor, and Union soldier.
Other interests include cycling, woodworking, pocket watch collecting and repair, cross-country skiing, caving, camping, hiking, astronomy, music (trombone and autoharp), volleyball.
The entire family (wife and 4 children) participates in reenactments when possible.
Awards:
• National Association for Interpretation (NAI) National Master Front-Line Interpreter, 2007
• NAI Region 4 Distinguished Professional Interpreter, 2007
• NAI Region 4 Distinguished Service Award, 1997
• NAI Certified Interpretive Guide, Certified Interpretive Trainer
• Third Place, NAI National Media Competition, Exhibit Guides, 1987
• NAI Region 4 Outstanding Interpretive Program Award, 1988
Education:
• B.S. Natural Resources, The Ohio State University, 1981
• M. B. A., California State University, 2008
Frank Lyons has made his living on the Ohio and Erie Canal for many years.  In an effort to get more citizens to buy canal bonds and support this essential transportation system, he visits with groups of citizens during the winter months.  Many people don't know what moves on the canals, or what a canaler's life is like, or how many canals crisscross the Midwest.  While his boat is frozen in for the winter, Mr. Lyons is available to increase your understanding of how essential this water transportation is to agriculture and industry.  A few canal songs will be added for entertainment and education.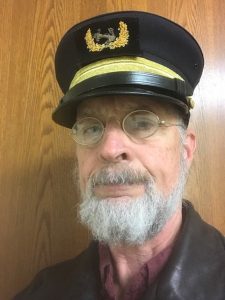 Keith Rocco: "Victory or Death"
On April 6, 1865, the Confederate 18th Georgia Infantry Battalion, the "Savannah Volunteer Guards," along with a fourth of General Robert E. Lee's vaunted Army of Northern Virginia, found itself cut off and cornered by overwhelming Federal forces amidst the hills of South Central Virginia. Defiantly, the Savannah Volunteer Guards, alongside their fellow soldiers and sailors, engaged in a savage life-or-death struggle along the banks of Little Sailor's Creek. Remaining true to their motto emblazoned on their Colors, "Victory or Death," the eighty-five-man regiment suffered tremendously during the short battle: thirty-one killed, twenty-two wounded, and most of the effectives captured.
General Lee would surrender three days later, effectively ending the War Between the States. 
The last stand of the SVG was immortalized in Keith Rocco's painting, "Victory or Death," depicting the regiment's final moments just prior to being overwhelmed (see below).
On March 25, 2023, the Appomattox-Petersburg Preservation Society will be hosting a guided walking tour of Sailor's Creek Battlefield, "Splendid Conduct," retracing the footsteps of the SVG and retelling their heroic actions of April 6, 1865. 
In commemoration of this historic event, APPS is raffling off a print of "Victory or Death" signed by the artist. Tickets will be $5 per ticket, or 3 for $10. 
The drawing will take place on March 25th, but you do not have to be present at the drawing.